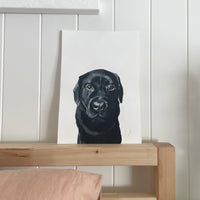 Custom Pet Portraits
ORDER NOW FOR SEPT, OCT, NOV, DEC 2023.
Embrace the beauty of your furry friends forever with a captivating custom pet portrait painting. Emma, a passionate animal lover, has honed her skills to create portraits that not only resemble your pets but also embody their distinctive personalities and quirks.
Her clients have come to admire her realistic and individualistic approach, which makes each painting truly one-of-a-kind. With a quick and convenient online ordering process, you can receive your stunning keepsake in no time, perfect for a special gift. Order your custom pet portrait today.
SHOP
Testimonials
When I saw the artwork of the Australian animals, I knew I needed them for my wall! They are some of my favourite pieces of art, and we get compliments on them every time we have a guest over! Emma is super talented, so easy to communicate with, and makes incredible candles as well!

Kendall R
Emma is an incredibly talented artist and her pet portraits have exceeded my expectations every time. I have ordered 3 separate pet portraits from Emma as gifts. These portraits brought so much happiness to the family and friends I gifted them to and they couldn't believe how closely the details matched their pets.

Brooke H
After purchasing 3 art pieces from Emma (an Australian bird and two Australian animals) - I eventually commissioned a piece as a gift for someone important. Emma's work is exceptional - her pieces absolutely make a house a home. Highly recommend.

Jade M
Received my cards swiftly with a lovely personal note from Emma. The feel of the paper is great. Looking forward to being able to send them to loved ones.

Amy G
Emma's painting of our beloved Maxie was beautiful and such a unique and meaningful gift to give at Christmas. Thank you, Emma.

Sam AC
A beautiful piece of artwork, Emma is extremely talented! The painting looked identical to the photo I supplied, I'll be sure to go to her for any future portraits.

Morgan L