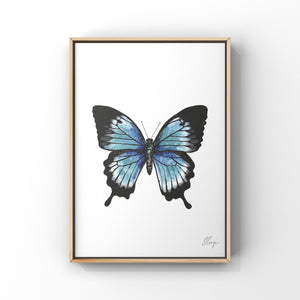 The Ulysses butterfly is one of Tropical North Queensland's most distinctive and unique butterfly species. They are also found in Indonesia, Papua New Guinea and the Solomon Islands.
This original was hand-painted by Emma Crupi in vivid colours that would be a perfect addition to any home.
A4 (21cm W x 29.7cm H)
Painted on 300GSM textured cotton paper
Individually hand signed by artist

Free standard shipping within Australia
Does not come with Frame
The plastic slip each painting comes in to keep it safe can be reused, repurposed or recycled (at your local REDCycle drop off point).